January 6th, 2013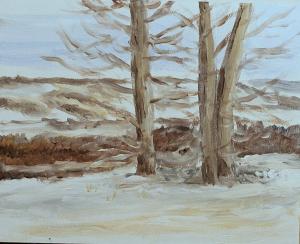 Seeing as it's sunny, warmish, and blue sky today....decided that I was going to try to figger out how to do a plein air painting while in the car. Without making a mess. Haven't done plein air in ages!

Well it was a bit cooler than I thought, with the wind and all. I drove around town and area, looking for 'the spot' that caught my eye but didn't have much luck. (Something isolated too, since I hate having an audience, lol, had a schoolbus stop one time when I was sittin on the side of the road, painting a field study couple winters ago - "Is your car okay lady??" I'm like, yes, it's fine, I'm PAINTING. He didn't seem to get it. lol) And then the sunlight threatened to disappear altogether with clouds rolling in, which woulda totally SUCKED because paintings need lighting to make them interesting.

ANYHOO! I ended up going down the highway a bit just past the next town over, to a lookout spot overlooking the north Saskatchewan river valley. Wasn't the greatest setup, and someone showed up in the parking lot about partway through my painting process so I just rushed through, because I'm a bit bashful and wouldn't have known what to say if they got curious and came over. lol (The painting was a mess, okay??) All in all, about 20mins spent actually painting. My hand was getting cold, it was windy! But the paint managed just fine. I sat in the passenger side of my car, door open, pochade easel standing next to the car. Radio playing, car running with heater blowin'. I guess not BAD, but I do far better when I'm not interrupted. lol Next time too, I'll start by prepping the panel in sky blue so that the WHITE snow shows up when I paint it. :P So this is very loose, just to capture the gist, 8x10 acrylics on panel.

It was an exercise. We'll call it that. Yes, an exercise. NEXT!
January 4th, 2013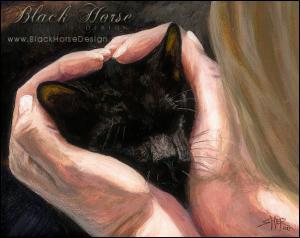 I'm not a texter. My cell phone is an ancient one that makes phone calls and that's about it. No internet on it, so I haven't really ever gotten into the whole short textspeak, and usually, U for "you" annoys the heck out of me.

HOWEVER!

I made an exception in this case. Today's painting begged for this title. It's actually I <3 U, but this blog wouldn't let me do that. (The blog is anti-text?) If you're looking at it, you can see why. It's fairly obvious. :) Then there's the fact that it's a friend's kitty, whom I met and know only online. Gotta love this modern age where we know people a million miles away from us better than we know the people next door. But I digress.

Since it's January and most people have made resolutions to exercise more to get into shape, I've decided to 'exercise' painting more, to get myself into shape with that. Pastel is by far my most comfy medium that I'm right at home with. But it is limited, especially when it comes to keeping it around unframed. Or when wanting to do a fairly large painting. While it CAN be done, it's just far nicer to have a....how should we say....more 'rough'n'tumble' proof medium like acrylics to be able to use when we want to. SO this is my exercising. Four days into the new year and I'm still here!

Enjoy this new piece, which I started yesterday and finished today. If you'd like to see it as it progressed in stages, be sure to stop by my Facebook page where I post pics of these Works in Progress (WIP's).

Over'n'out!